​​In a world full of choices, the career choice we make is a critical commitment that will truly shape not only our professional live but our personal one too. It seems that over time those traditional career paths have lost their appeal, and the recruitment industry continues to succeed in attracting individuals seeking a challenging and dynamic career.
So lets have a look at why recruitment will be a game-changing career choice.
Personal Growth & Development
🚀
One of the most appealing areas of working in recruitment is the professional growth and advancements available. There are clear opportunities to climb the career ladder when it comes to recruitment.
As you become more experienced, build a wider and more diverse network, and showcase your skills, many recruiters find doors will open and there are many opportunities that are more challenging and come with more responsibilities.
The growth of a recruitment career can go in a number of different directions too. You may have the chance to take on a more managerial style role; overseeing a team of recruiters and driving performance, as well as driving your own targets up.
Recruitment companies often care about growing the business from within. If you are looking for a career which can result in a leadership position, which helps shape a business and become more strategic, recruitment often offers people pathways which can which enable people to contribute to business growth.
Financial Rewards
💸
The ability to Increase your income beyond your base salary can be a significant motivating factor when selecting a career. In a time where financial incentives are a key consideration when taking on a new role, recruitment can offer greater financial rewards that exceed a base salary expectation.
Opting for a career in recruitment not only provides a competitive base salary but also offers the potential to earn additional income through well-structured commission structures or bonus payments can help you build a substantial financial foundation.
This opportunity is appealing to a lot of people, allowing them to save for house deposits, cars or holidays. Recruitment offers significant financial incentives and is very appealing when considering career options.
Building a network
🌐
Building a network is key to being a successful recruitment consultant. It is a pivotal part of the role. Having the opportunity to build networks, you get to know candidates on a personal level and support their goals and aspirations. These connections help you understand them better and help build a career path with them so they can land their dream job.
But it isn't just candidates you will form connections with. Professionally you will build a network who you will be able to work with and help build up their businesses by connecting them with the great people you know in your talent pool. Your professional connections can lead to exciting collaborations throughout your career.
I ran a recent poll to my connections via LinkedIn asking for help from specifically recruitment consultants as I was keen to find out what they favour most from working in recruitment.
I used the same examples as above and simply asked them "What is your favourite thing about working in recruitment/what is most important to you❗❗"
From 70 responses from those in the industry and in my network. These are the results:
​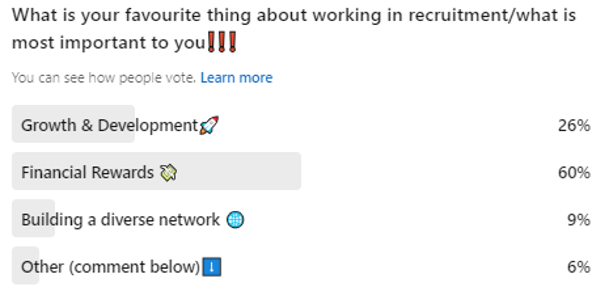 As you can Financial Rewards took a clean sweep and a consensus that the financial impact & reward is a preferred benefit from those in the industry and alternatively, the reward that attracts and retains those who work in recruitment.
Recruitment is an industry where the financial opportunities are very clear from the outset. At Zero Global, anyone joining our recruitment team, regardless of if they are new to recruitment, has previously worked in the industry or are looking for a new career, we have an unrivalled structure which can bring recruitment consultants more financial rewards.
If you are interested in a career in recruitment, get in touch with me to find out about our latest opportunities.
​